WELSH RACER COLLINGBOURNE RETURNS TO UK SOIL FOR 2018 SEASON WITH MOVE TO PORSCHE CARRERA CUP GB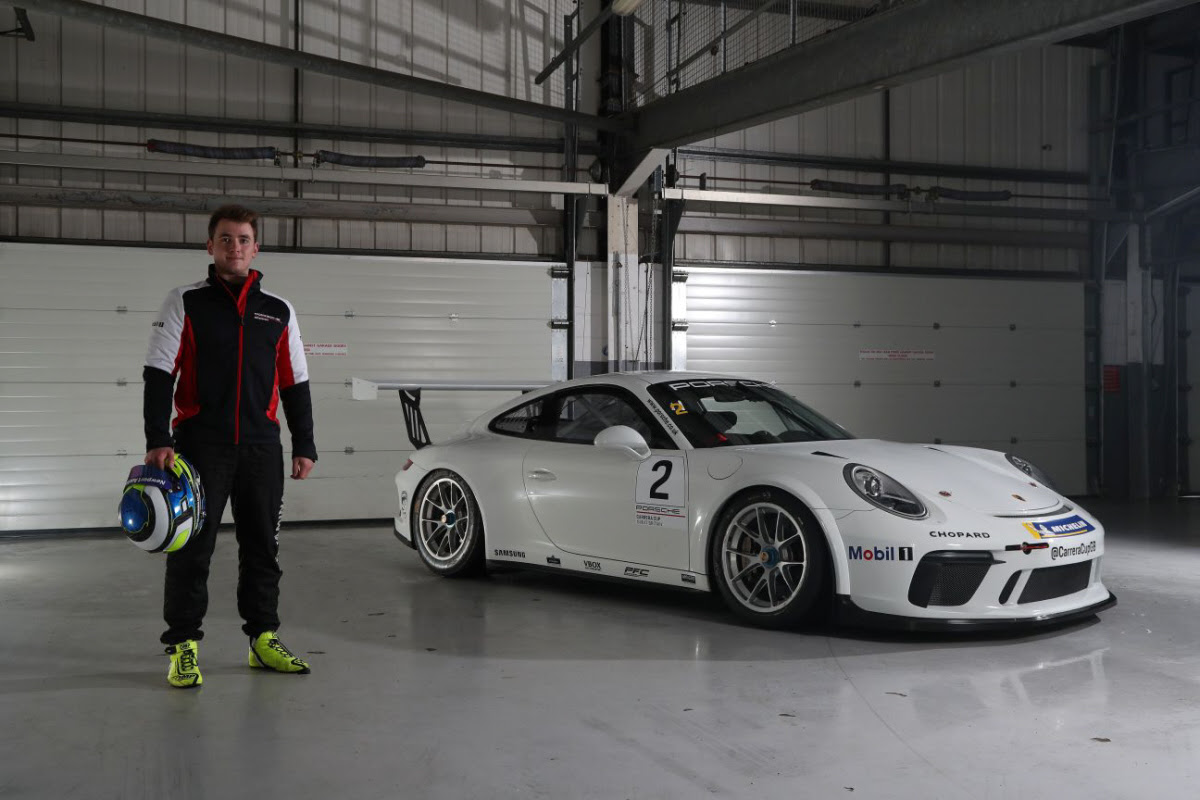 • Newport's Rory Collingbourne joins Porsche Carrera Cup GB
• Lamborghini Super Trofeo Asia podium finisher makes UK return
• Veloce Sports managed driver signs for Welch Motorsport
• Eight weekend calendar includes seven UK events plus Monza visit
Multiple podium finishing Lamborghini Super Trofeo Asia driver Rory Collingbourne has officially confirmed a return to UK motorsport for the 2018 season, with a move into the prestigious Porsche Carrera Cup GB Championship.
Signing for Hampshire's Welch Motorsport to pilot one of the squad's brand new second generation Porsche 991 GT3 cars in the high-profile British Touring Car Championship support category, the 20-year-old Welshman from Newport is elated to be back racing on home soil.
Collingbourne, who is managed by Veloce Sports, will debut in Porsche off the back of a very strong maiden season in the Lamborghini Super Trofeo last year. Scorching to three outright podiums, he delivered a string of very impressive performances at some of the Far East's most highly regarded tracks, such as Suzuka and Fuji Speedway in Japan and Buriram in Thailand.
Prior to his move into international racing last season, Collingbourne was part of the BTCC package in the Renault UK Clio Cup for two seasons where he achieved a best championship finish of sixth in 2015, taking a highest race result of fourth. He was also third in the Graduate Cup title battle.
"I am very excited to be back racing in the UK", said the Welshman, "Porsche Carrera Cup GB gives us the best opportunity to bring in sponsorship and provide first class hospitality for sponsors and supporters at a very high level of racing. With as many as 40,000 fans trackside at the biggest events, and all of the live TV too, being on the BTCC package again is a great opportunity.
"I need to get adjusted to a very different type of car again, the Porsche isn't like the Lamborghini and is a big departure from a front-wheel drive Clio, but I'm sure my knowledge of the tracks from two years in the Clio Cup will be a good foundation to start from."
With an average of 30,000 spectators visiting the Porsche Carrera Cup GB events alongside the BTCC every race weekend, the championship benefits from a huge profile with races also broadcast live on Freeview, digital satellite and cable channel ITV4 to millions of armchair enthusiasts.
Two Porsche Carrera Cup GB races are contested each weekend, across a 16 round season this year, and the new second generation cars feature a 4.0-litre direct injection flat-six cylinder engine which produces an eye-watering 485bhp through the rear wheels.
"We are very happy Rory has secured a seat for 2018 in a championship as prestigious as Porsche Carrera Cup GB", said Veloce Sports founder Rupert Svendsen-Cook, "Last year, Rory was a podium regular in the Lamborghini Super Trofeo Asia so this year we hope that, despite it being another new car to learn, he will be able to adapt and build on that success.
"Welch Motorsport are also new to the series so there is pressure on both sides to get up to speed quickly, which we are confident they have the ability to do. We're all looking forward to a strong and enjoyable season for Rory in Porsche Carrera Cup GB."
Beginning at Brands Hatch Indy Circuit in Kent over the weekend 7th/8th April, the Porsche Carrera Cup GB Championship then visits Donington Park in Leicestershire on 28th/29th April before the sole overseas rounds of the campaign, at Monza in Italy, on 12th/13th May in support of the European Le Mans Series.
Returning to the UK, the championship then travels to Oulton Park in Cheshire on 9th/10th June, Snetterton in Norfolk on 28th/29th July, Knockhill in Fife on 25th/26th August and Silverstone National Circuit over the weekend 15th/16th September. The championship reaches its conclusion on 29th/30th September back at Brands Hatch, on the full length Grand Prix configuration.
2018 Porsche Carrera Cup GB Championship Calendar
Rds1&2 Brands Hatch Indy, Kent – 7/8 April
Rds3&4 Donington Park National, Leicestershire – 28/29 April
Rds5&6 Monza, Italy – 12/13 May
Rds7&8 Oulton Park Island, Cheshire – 9/10 June
Rds9&10 Snetterton 300 Circuit, Norfolk – 28/29 July
Rds11&12 Knockhill, Fife – 25/26 August
Rds13&14 Silverstone National, Northamptonshire – 15/16 September
Rds15&16 Brands Hatch GP, Kent – 29/30 September
Keep up to date with Rory Collingbourne…
Official Website: www.rorycollingbourne.co.uk
Twitter: @Collingbourne13
Instagram: @rorycollingbourne