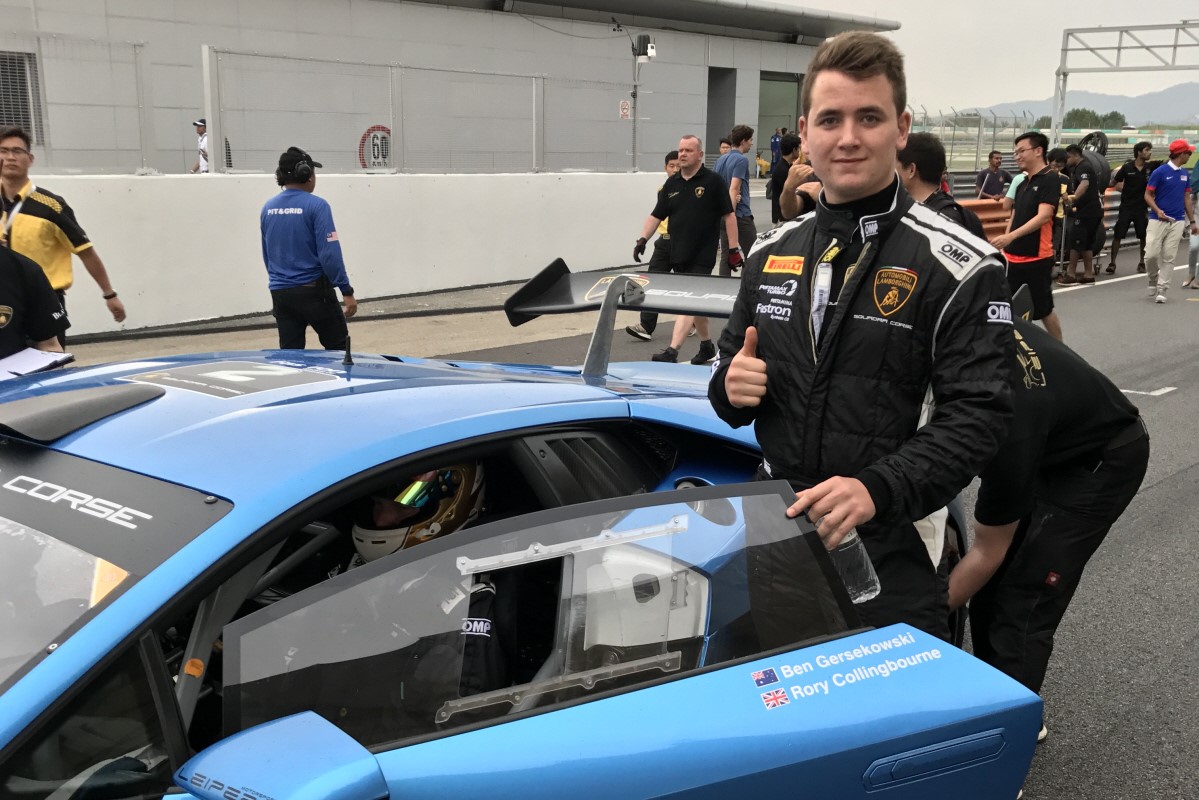 OUTSTANDING START TO LAMBORGHINI SUPER TROFEO ASIA FOR ROOKIE COLLINGBOURNE, WITH CLASS PODIUM ON DEBUT
Endurance rookie Rory Collingbourne stars on international debut
Pro podium in maiden race for Welshman and Ben Gersekowski
Veloce Sports client departs Malaysia third in Pro championship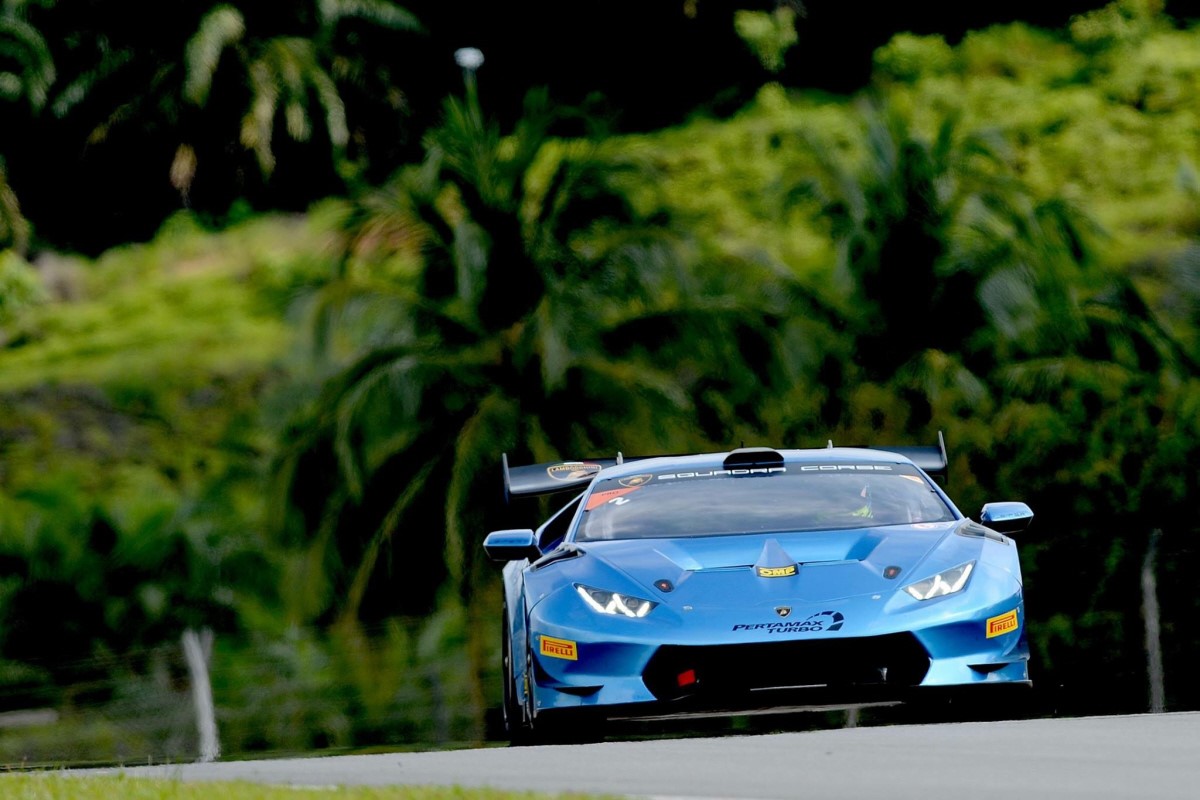 Lamborghini Super Trofeo Asia debutant Rory Collingbourne delivered an eye-catching performance during the first event of the season at Sepang in Malaysia over the weekend, 8th/9th April, to claim a maiden Pro class podium on his championship bow with team-mate Ben Gersekowski.
Veloce Sports managed Collingbourne, who has made the leap into international endurance racing this year after two seasons in the 'tin top' Renault UK Clio Cup, couldn't have dreamt of a better start to his Lamborghini debut – the Newport 19-year-old adding fourth in the Pro class in race two.
It was certainly a weekend of firsts all ways round for Collingbourne. In addition to being his maiden outing in the championship, the event marked his first competitive experience in rear-wheel drive, first time racing with 620bhp beneath his right foot and it was also his maiden outing at Sepang.
Concluding the weekend third in the Pro class championship standings, the Leipert Motorsport driver now looks to the next round, at Buriram in Thailand six weeks from now, where even headier heights are targeted.
"To come away from the first weekend third in the championship is pretty good for our first time racing in Asia, and my first time in the Lamborghini, especially racing against some really top guys with a lot of experience", said an elated Collingbourne.
"I love the car, love the team and we're really looking forward to Thailand now. It's a big learning curve but I'm so glad we've made this change to make the step into international endurance racing. It's such a tough field, but we've proven we're right on the pace from the first round."
Hitting the ground running in practice at Sepang International Circuit on Friday, the duo lapped sixth in class and seventh overall with Gersekowski then taking driving duties for the opening qualifying session later in the day where he secured fifth on the grid overall, fourth in Pro, for race one.
The Australian took the first stint in Saturday's race, which was impacted by the notorious Malaysian weather, and following the driver change midway through Collingbourne held third place in the worsening conditions – his first experience on wet Pirelli tyres in the Lamborghini. Although edged back to fourth, and third in Pro, he lapped consistently to the finish to cap a superb debut.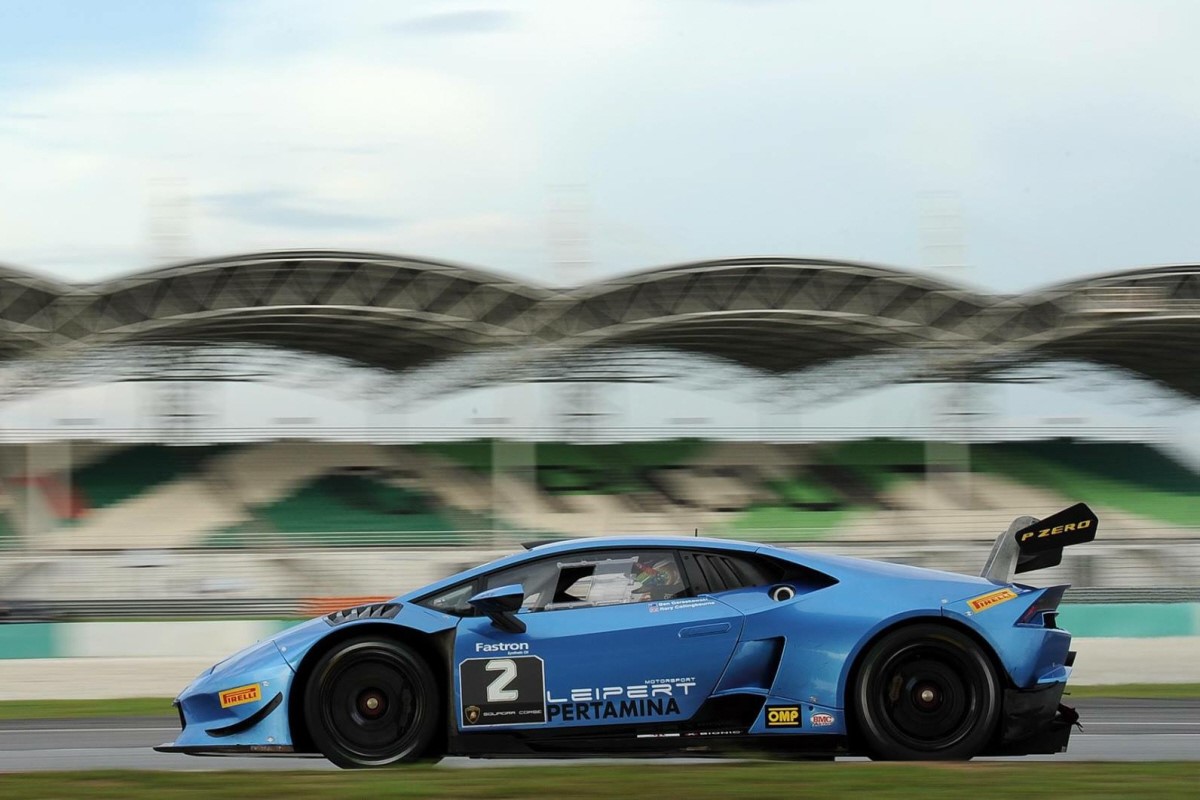 For Sunday's race Collingbourne took the opening stint after qualifying the car ninth overall, sixth in Pro, after his run was impacted by an unfortunate puncture, limiting his potential. Holding ninth initially for the first few laps, he moved into eighth on lap five before then pitting at the end of lap 10 to hand over to Gersekowski.
Running in ninth overall as the order shook itself out following the pit stops, Gersekowski made strong progress in the dry conditions during the second half of the 23-lap contest and finished fifth overall, fourth in Pro.
"From my perspective, it's a massive jump but it went like a dream", said Collingbourne, "My first lap in the car was so intense, just learning everything, where everything is, but the whole team did a great job for me all weekend. My team-mates taught me all of the little tricks they know too, so everything went as well as we could have hoped – better than we could have hoped really.
"In the races we all kept wondering if it would rain and it did, the Asian weather is so unpredictable as a cloud can vanish as quickly as it appears. Ben did a really good job on slicks in the wet and then it really started to chuck it down when I was out. On my third lap I think I was third fastest on track, so that was fantastic, and I lapped consistently in the top five after that."
He added: "We should have finished third in Pro in the second race, I made a small mistake but I've learnt from that already. It's not like in the Clio Cup, a 20-minute short race where you're going for everything back and forth, this racing is all about the bigger picture and planning what to do with so much more to take into account. It's a fantastic championship and we've made a great start."
On behalf of Veloce Sports, founder Rupert Svendsen-Cook said: "We're absolutely delighted for Rory, he had a great debut in the Super Trofeo and really did make a seamless transition to the Lamborghini, working with a new team and learning a new track. It's been an incredible start, better than any of us could have expected, so we can't wait now for round two!"
The second event of the 2017 Lamborghini Super Trofeo Asia will take place at Chang International Circuit in Buriram, Thailand, over the weekend 20th/21st May.