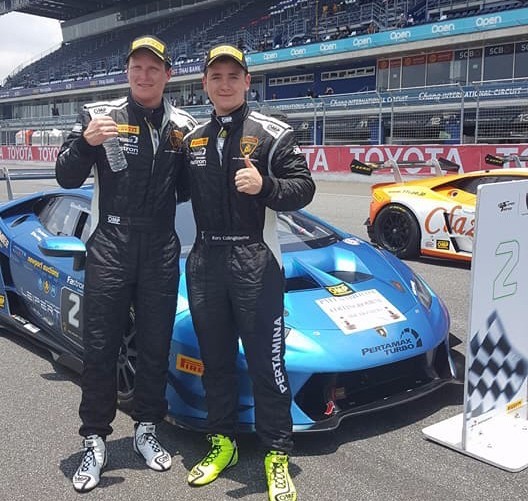 COLLINGBOURNE STARS IN THAILAND WITH DOUBLE PODIUM IN LAMBORGHINI SUPER TROFEO ASIA
– Magnificent double podium at Chang International Circuit in Rds3&4
– Collingbourne and team-mate Gersekowski up to P2 in Pro standings
– Hugely impressive performance from highly rated Veloce Sports client
– Welshman dedicates podiums to unwell Mum back home in Newport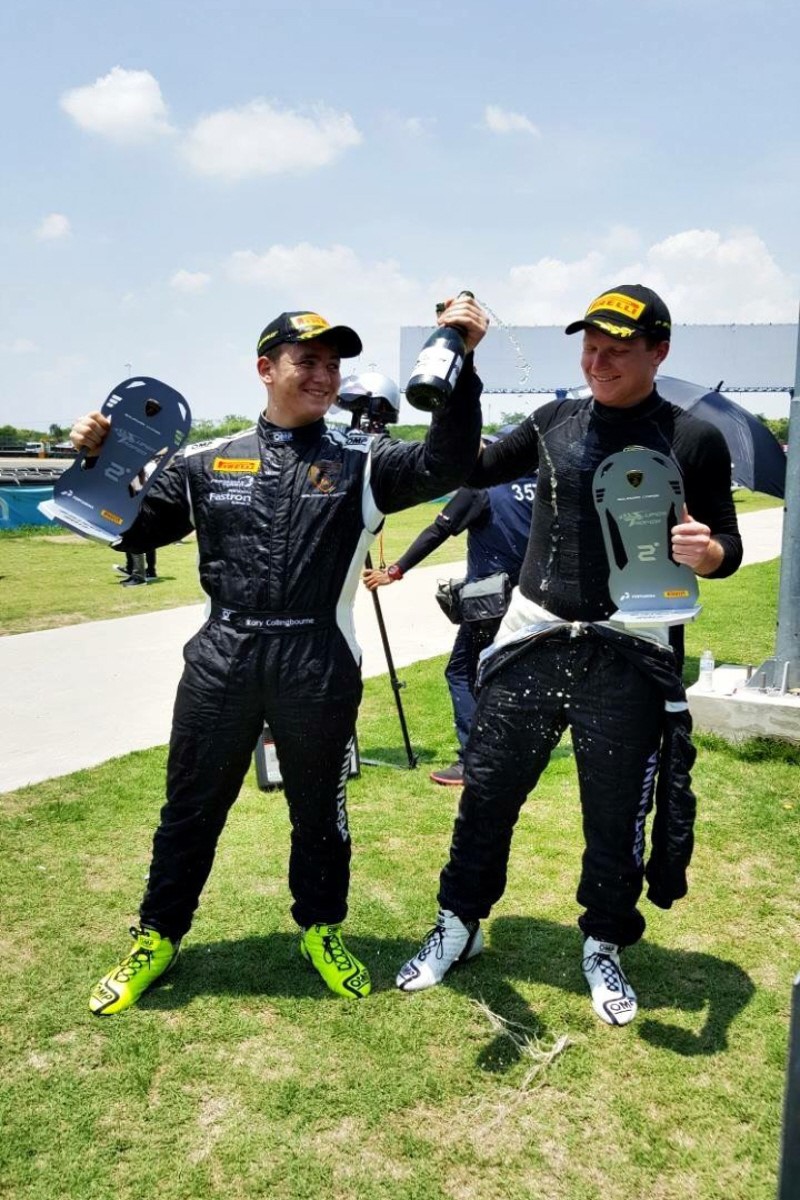 Rory Collingbourne enjoyed an absolutely sensational first visit to Chang International Circuit in Thailand over the weekend, 20th/21st May, after racing to a pair of fantastic podium finishes during rounds three and four of the Lamborghini Super Trofeo Asia.
Teaming with Australian driver Ben Gersekowski, 19-year-old Welshman Collingbourne finished in third place during race one on Saturday and the duo went on to take an improved runner-up spot in Sunday's encounter.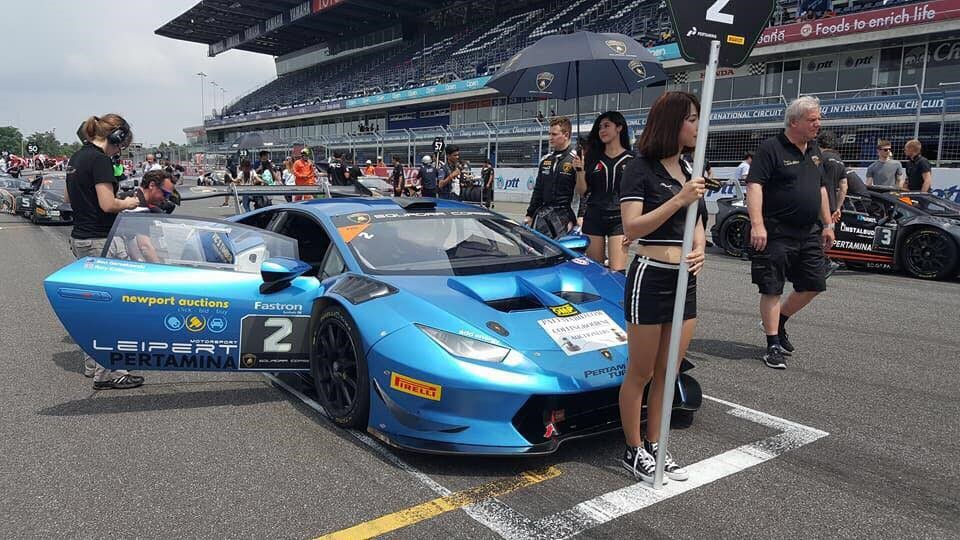 Building on the top four outright finish he achieved on his debut in the Super Trofeo last month at Sepang in Malaysia, the Veloce Sports managed racer from Newport starred in Thailand and now goes into the third event of the season an improved second in the championship.
While the results were glittering, the second event of the season wasn't easy or straightforward by any means for Collingbourne. Struck down with food poisoning on the practice day, he also headed out to a race weekend for the first time without either of his parents due to his mum having to be admitted to hospital last week.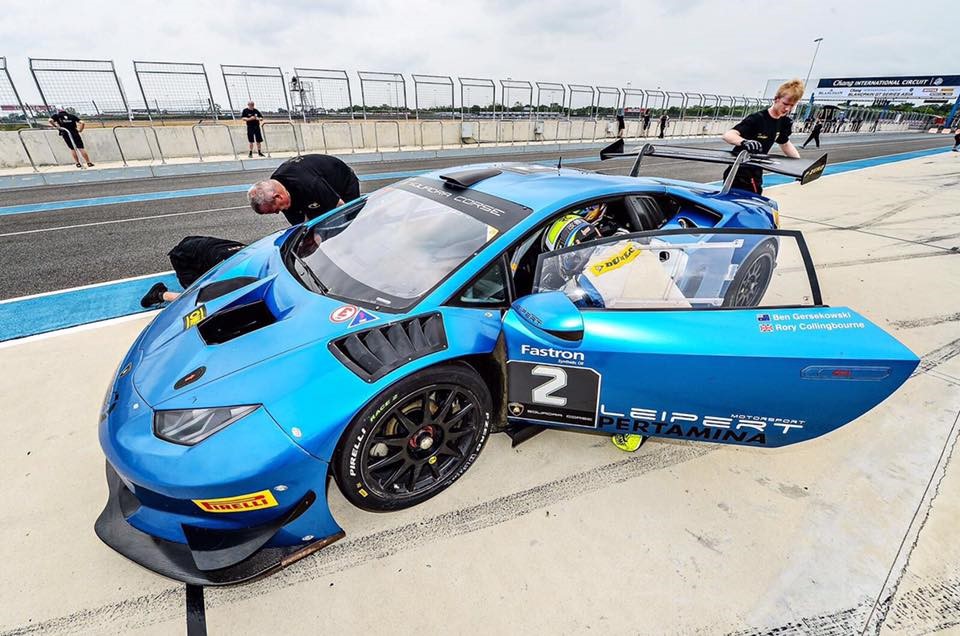 "I do want to dedicate this weekend, and our amazing results, to my mum", said Collingbourne, "My dad stayed at home to look after her so I was a lone ranger on a mission this weekend! I'm so happy to bring home second and third place trophies for them both.
"I wanted to make sure I was traveling home with at least one trophy, after being so close in Sepang last month. My mindset was clear this weekend, I wanted to stay in the championship top three and we managed that, and more, by improving to second place which is absolutely fantastic."
Gersekowski qualified the No.2 Leipert Motorsport Lamborghini third fastest for race one and took the first stint of Saturday's race, consolidating third and remaining in touch with the second placed car. When the race leading No.11 car served its driver-change stop at the end of lap 14, Gersekowski assumed second place and then pitted himself on lap 17.
Collingbourne took over the Lamborghini and emerged in third place when the race order settled, firmly establishing himself in the podium battle and storming away from the pursuing pack of cars. By the end of the 30-lap contest, the former Renault UK Clio Cup racer had pulled almost 18 seconds clear of his nearest challenger.
For round four qualifying, Collingbourne piloted the No.2 Huracan and went on to post the sixth fastest lap. Taking the opening stint of Sunday's race, he moved up into the top five prior to an early Safety Car period and when racing resumed on lap four he set about closing down the car ahead which he passed on lap five to move into fourth.
Remaining on track to the end of lap 12, Collingbourne then pitted for the driver-change and the early stop paid dividends. When the race order settled, Gersekowski held an improved second place and he went on to take the flag on lap 30 over 17 seconds clear of the third placed car.
"I'm so happy with the team and my co-driver Ben, we had a brilliant all-round performance this weekend and the results show that", added Collingbourne, "It wasn't an easy weekend by any means with the food poisoning. It's never great doing a race run in practice, having to pit to be sick, and then jumping back in the car for a qualy stint! Everything worked out in the end though."
On behalf of Veloce Sports, Rupert Svendsen-Cook said: "Rory continues to develop and show remarkable progress in GT racing. It's very easy to forget his background before he graduated to the Lamborghini Super Trofeo, to score a double podium on just his second weekend in the series is a fantastic achievement. We will keep pushing on now to Suzuka!"
Next on the motor racing schedule for Collingbourne will be a visit to Suzuka in Japan over the weekend 24th/25th June for rounds five and six of the Lamborghini Super Trofeo Asia.
Keep up to date with Rory Collingbourne:
Official website: www.rorycollingbourne.co.uk
Social Media: @Collingbourne13 on Twitter and @rorycollingbourne on Instagram